Event Details - Dwarka Half Marathon & Charity Run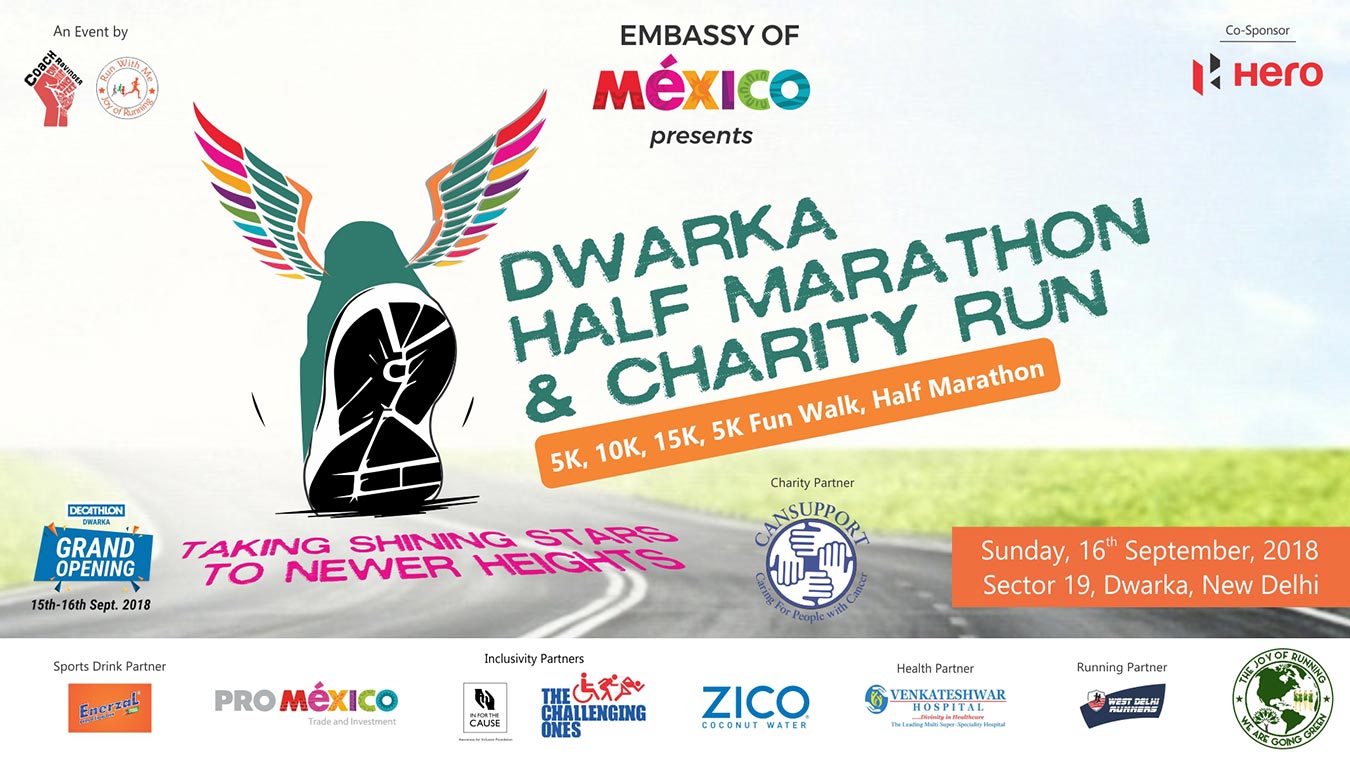 Registration link:
https://www.townscript.com/e/6th-dwarka-half-marathon-charity-run-430102
The
Dwarka Half Marathon (DHM)
has been Coach Ravinder Singh's flagship event. Just when running was becoming the new fitness rage, DHM was the first run in NCR to fuel the fire.
Some of the features that give it the status of being distinct:
A testing ground for big nation-wide runs. Since the big ticket runs start in November in the North, DHM gives runners an opportunity to test their training so far before they take the big leap.
The first run in NCR to organise a walkathon along with a run, giving recognition to walkers and also introducing them to the benefits of running.
It has grown from 200 participants in 2013 to 2000 runners in 2017.
An endearing example of growing leaps and bounds because of the support of a local running group. In this case, we are talking about West Delhi Runners (WDR). The WDR has stood rock solid in supporting, promoting and organising this event year after year.
It gives runners the unique option of 15km distance too along with 5k, 10k and 21k. The 15k option breaks the mental barrier of going beyond 10k for most runners wanting to attempt their first half marathon at the large scale events.
In 2017,
The Embassy of Mexico
to India came forward to
partner with DHM
. It became the lead sponsor of the event. The Mexican Ambassador - H.E. Melba Pria, Ambassador of Mexico to India, herself a triathlete and a believer of fitness and sports kept her faith in the growth of DHM as one of the best road runs in NCR. Now having support and sponsors, Coach Ravinder Singh added a new dimension to this event by supporting cancer patients at the
CanSupport
NGO.
CanSupport has been caring for people with cancer since 1996 – that too for free. Part and proceeds of the run will go to CanSupport. Your participation counts for the many cancer patients who don´t have the means and need our help.
The growth of
Dwarka Half Marathon
has been a reason for celebration for it's participants too. The event was the first one is NCR to move from simple refreshments to a full-fledged breakfast, photos by bib numbers, and a walkthon for non-runners. The event has grown by stupendously both in numbers and quality.
Expect more, in this edition, which is on 16
th
Sept 2018
Race Categories:
►
Half Marathon
(5:00am start, Min age 18yrs, cutoff time limit 3hrs)- 1200/-
►
15Km Run
(5:30am start, Min age 18yrs, cutoff time limit 2hrs)- 1200/-
►
10Km Run
(5:30am start, Min age 14yrs, cutoff time limit 1:30hrs)- 1200/-
►
5Km Run
(6:00am start, Min age 8yrs, cutoff time limit 50mins)- 1200/-
►
5Km Fun Walk
(6:00am start, Min age 8yrs, non-timed)- 1000/-
Registrations close on 11th September or as soon as the targeted slots are filled.
Prizes:
Participants' takeaway- Dri-fit T-shirt, Breakfast, Finisher Medal & Timing Certificate.
Day & Date:
Sunday, 16
th
September 2018
Waiver statement:
I affirm and state that I am physically fit and sufficiently trained for participating in the designated race. I have been certified to be physically fit by licensed medical practitioner and agree to indemnify the organizers its agents, employees and associates, the organizing committee and other persons connected to the event against any losses, damages, costs, liabilities, claims or proceedings arising out of any misstatement and/ or misrepresentation made herein.
Registration link:
https://www.townscript.com/e/6th-dwarka-half-marathon-charity-run-430102
Facebook:
https://www.facebook.com/events/176121936579223/